HOW WAS ST, MARK'S SQUARE DURING THE LOCKDOWN?
In March and April 2020 Italy was blocked by a severe Lockdown due to the COVID pandemic. Usually St Mark's Square is the most crowded place in Venice. For sure the main highlight of the city and its most known attraction. Some tourists are visiting Venice so shortly to have time only to stay around St Mark's Square. So during the COVID 2020 Lockdown the absence of people was more evident. Here we have some photos and videos made by our colleague Andrea Donà describing the lockdown situation in St. Mark's area (more pics and videos about lockdown in Venice)
–
HOW WAS ST, MARK'S SQUARE BEFORE THE LOCKDOWN?
This is how the St Mark's area looked before the COVID started: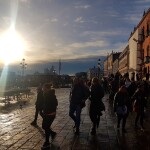 –
HOW BUSIEST ST. MARK'S AREAS LOOKED DURING LOCKDOWN
–
The St. Mark's Square: usually here you couldn't stand without being surrounded by thousands of people
–
The St. Mark's Basilica: the 5 milions visitors per year make it the second most visited venue in Italy, (after Colosseum in Rome) with hundreds of people wating on the entrance gate
–
The Doge's Palace: the most visited museum in Venice, it was closed during the lockdown and rather empty the months later
–
The Bridge of Sighs: probably the most romantic picture in Venice, usually you need to fight for a first row place
–
HOW IS IT ST. MARK SQUARE NOW?
Few months after the lockdown the tourists are back in Venice so slowly we are reaching a normal level of people enjoying visiting the St. Mark's Square. September 2020: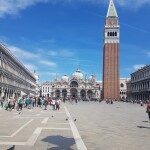 –
VIDEO OF LOCKDOWN IN ST. MARK
For more pics and video click here for italian article
Davide Calenda
Photo and Video by Andrea Donà