HOW TO MOVE AROUND VENICE AND ITS SURROUNDING GUIDE AND HINTS
When you arrive the first time in Venice is always difficult to understand how to move around. But also before you come it is hard to plan your arrival, especially if you need to get on a specific place with a big amount of luggages. And what about an excursion to the islands? And maybe planning a day trip to the close mainland towns and beauties.
BEFORE VENICE, PLANNING YOUR ARRIVAL
There're 2 ways to reach your destination in Venice:
booking a transfer where water taxi is included, is the easiest option, very often tour operators/agency include transfers (from airport, train station, car parking, port) with or without an assistant to the hotel, apartment in Venice
going by yourself, this is a bit challenging but for sure cheaper
Let's analyse both ways.
WHAT SHOULD YOU NOW ABOUT YOUR BOOKED TRANSFER
Since you're taking a water taxi you're travelling by boat through water canals. This is means that sometimes your boat transfer doesn't reach the water gate of your hotel, maybe you need to walk few minutes and even to cross some bridges. Taking a view on GoogleMaps how far is your lodging  place from the closest canal might be a good idea.
Moreover due to the too high or low tide the canal edging your hotel might be impassable, so sometimes you need to walk anyway to reach the entrance.
For this reason agencies provide tourist assistant to give you logistic and tourist info. If you need an assisted transfer contact us too.
WHAT SHOULD YOU DO IF YOU PLAN THE ARRIVAL BY YOURSELF
Here you have several options:
taking a private water taxi at a closest taxi stop, the easiest but more expensive choice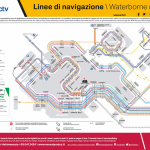 ACTV Vaporetto map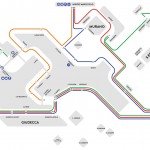 Alilaguna map
HOW TO MOVE IN VENICE TO VISIT THE CITY
The 124 islands are connected by around 400 bridges, so you can always walk. But for a faster and energy saver visit is better to use boats.
the water taxi is always a good option but remember that hardly you pay less than 60 euro for any journey, I would suggest taking a water taxi as part of a cruise tour, as our Land and See
the public boat ACTV is a 24hours service which grant passengers to reach any place in Venice, one ticket costs 8 euro, if you plan to take it more often better the daily passes (1 day 20 euro, up to 60 euro for 7 days)
HOW TO GO TO MURANO BURANO AND TORCELLO
Here again you can use the public ACTV boat, in this case investing money on a water taxi option might be a better choice as taking a public water bus might take a very long time (from Venice to Burano more than 45 minutes) and often they are crowded, as there're very few runs per hour.
If you come with us to the islands we'll try to find the most suitable solution for you, even for the light excursions
LIDO SEASIDE AND MAINLAND DAY EXCURSIONS
The Venetian Lido is often a neglected venue, it's a beautiful seaside island with many Art Nouveau villas and some historical hotels. The ACTV is grants the connection with Venice, and even for car and bikes by Ferry-boatservice
The several daily excursions you can do from Venice might include cities and towns reachable by public train, such as Verona, Padua, Vicenza, or beautiful places where you need a car, such as Dolomites mountains,

Palladian Villas

, Prosecco wine hills.
We provide half day and full day excursions also to the above venues but train or by chauffeur rental.
Davide Calenda
Foto by Andrea Donà
…SEE MORE PICTURE IN THE ITALIAN VERSION